Seeking true love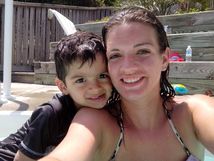 I am cute and they say bedroom eyes very sweet,kind, sensitive to a degree, spontaneous, caring, giving, romantic, and love to be close and cuddling with the right man. i love to show and share my feeling in private to my man, and want a man to treat me with the same respect showing a sharing and giving himself to me in every way.
My Ideal Partner
Man who who is committed, a one woman man and a man who will allow me to treat him as my "King". The reason I have this dream is simple because i know that if I do everything I can to make my Man the happiest Man on earth, the love he will give back in return, will be greater than any treasure I could ever find. I am a Woman who holds the belief that the only "true fortune" in the world for any Woman, is the gift of love from a Man.
Username omarcus94ayahoo
IP Address 41.190.3.92
Reported Country: Australia
Actual Country: NIGERIA*
*It is possible for scammers to fake IP addresses and country.
Remember, this is a FAKE PROFILE set up by a scammer on my dating site. DO NOT ATTEMPT CONTACT. Click here to learn more about the Scammerz.org project.
---
About this entry
You're currently reading "Seeking true love," an entry on Scammerz.org
Published:

07.08.14 / 10pm
Category: