Seeking…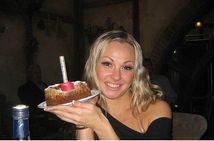 As you can see the headline in my profile, I am still seeking someone, who will be my second half, and I do not know, how to describe myself briefly. All I can say – I am good =) Who knows, may be you, reading this, is what I am seeking… we shall try, if we see both sense in that

My Ideal Partner
Just a Man… may be you noticed, that I am writing this word from head letter – is that you?
Movies
Meet, Joe Black
Inception
Vanilla Sky
Music
Depends upon my mood
Username Irena
IP Address 195.189.46.246
Reported Country: Australia
Actual Country: UKRAINE*
*It is possible for scammers to fake IP addresses and country.
Remember, this is a FAKE PROFILE set up by a scammer on my dating site. DO NOT ATTEMPT CONTACT. Click here to learn more about the Scammerz.org project.
---
About this entry
You're currently reading "Seeking…," an entry on Scammerz.org
Published:

12.19.10 / 9am
Category: