looking for the best man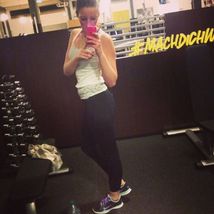 I am simple woman who need good gentleman and I am willing to love a faithful man for me. I can be a good lover and I can assure to my future man that he will never regret in his life once he chooses me to be with him for a lifetime. I will do all my best I could to my future husband and I am willing to relocate…
My Ideal Partner
I am looking for a self-confident, understanding, loyal, loving, tender and happy man, who knows what he wants from life and is ready to go after that..
Fantasy
oral, dogging,
Movies
The Matrix, Forest Gump, Back to the Beach, Barraka..
Music
I like live music and concerts, country
T.V.
That 70's show, Friends, Simpsons and Sopranos..
Books
magazine, news paper, bible..
Food
mostly enjoy Italian, but am an avid foodie and often order something I've never had from the menu just to see if I'll like it…
Sports
Running,tennis, football, volley…
Activities
Remember, this is a FAKE PROFILE set up by a scammer on my dating site. DO NOT ATTEMPT CONTACT. Click here to learn more about the Scammerz.org project.
---
About this entry
You're currently reading "looking for the best man," an entry on Scammerz.org
Published:

01.26.16 / 7am
Category: