IN MY OWN WORDS…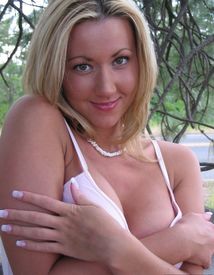 I'm a very optimistic person and I always try to thing positive though I understand that the life is not perfect I just take it as it is.I try to be noble in every thing I do and not to bring harm to anyone. I'm a very ambitious, sociable and cheerful person. I believe I'm caring, loving and romantic. I love nature and animals very much! I have a lot of different interests and they vary. I'm very sociable, versatile, with a good sense of humor. I am easy and simple, therefore I have a lot of friends. I've been told that I have a very good, soft character and I'm easy to get along with. I'm open minded and I like to learn new things every day. I have a great sense of humor, to tell the truth it helps me to overcome the bad days. I'm an optimist by nature and I'm sure everything is for the best! I like art very much and I find it very interesting to learn something about cultures, literature, traditions of other people and countries. I think I can bring a lot of pleasure and happiness to the life of a unique person to whom I shall give all my tenderness, care and love. I'm very sincere in the desire to find a future partner for life, also I hope that my expectations will be justified. Probably it will be you, who's now reading my questionnaire. Free time is not for sleep. Free time is for making our life more interesting. I like to play the guitar and to sing songs. I adore embroider different pictures. And cannot live without psychology of positive thinking. There are so many interesting things in our life! I like to observe the nature. I am happy when the sun shines brightly, when icicles melt, crying with translucent tears, when birds sing their songs, ringing like little bells, …My dream is to learn horse-riding, to swim with dolphin and to visit all capitals of he world.
My Ideal Partner
Interested in meeting someone who is honest and caring. The persons must like romance. he must not want to play any mind games. I looking for a person who likes to hold hands and likes to cuddle. he must not be afraid to kiss in public. The person must also like to have fun. I looking for someone who wants to spend time together and likes to talk. he must also want to me treated with respect and kindness. In easier terms you must want your knight in shinning armor………….And a very nice looking man that really know how to take care of hes woman …..treat her very well not a game man ….and know what is the meaning of love and a very hard working man that can work very hard ……. and if you are a very nice looking careful man and honest guy………Am looking for a man that will be able to listen to me , communicate his feelings to me , make me laugh?, hold and comfort me in need?,stand by my side?, respect me?, passionate lover in every way?, support me in every-way?, love me and only me?, make me smile?, protect me when needed?, romantic time to time? ,constantly reactive?, and treat me right?
I just want to find someone that would like to have a good time and make a good friend. Whatever comes from that, we shall see, but I don't want to start too serious. A friend would be better to start (heck, a friend for life makes the best partner anyhow). Send me a message and let's figure out how to get in touch.
Username jessica1980
IP Address 199.58.84.36
Reported Country: Australia
Actual Country: SOUTH AFRICA*
*It is possible for scammers to fake IP addresses and country.
Remember, this is a FAKE PROFILE set up by a scammer on my dating site. DO NOT ATTEMPT CONTACT. Click here to learn more about the Scammerz.org project.
---
About this entry
You're currently reading "IN MY OWN WORDS…," an entry on Scammerz.org
Published:

04.06.13 / 5am
Category: