sexy,loving and laid back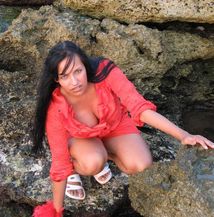 I am turning 37 years old in december.Am .5.10feet tall, Although I was born in ukraine and live in australia but am willing to relocate for the right man and I have lived and traveled to many different places. I love the outdoors. My hobbies include,drawing,painting going to the beach for a long walk, cooking,watching movies, dancing mostly salsa, playing video games,swimming, hanging out with loved ones,playing basketball,and the Music play a huge part in my life. I have a Pet named fluffy.
I have been in the sculpture business all my life. I'm looking forward to having more time to travel and enjoy the important things in life. There are so many places to see and things to do! I really love learning about different cultures and ways of life.
I am a very outgoing and social woman. I love meeting new and like minded people. I'm always up for a good time. I'm very caring, funny and cute. I have a lot of energy and am very entertaining and talkative.I love to be spoiled by my man but enjoy returning the favour.Am looking for a serious relationship or a life partner I am a romantic at heart and loved being swept off my feet.I have a lust for ally things great in this world, great food, great friends and great adventures.
I am spontaneous, social, and adorable.
I'm unique in that I will not waste time with "shallow" interactions. I'm only open to meaningful, honest, and exclusive relationships with like minded people. I'm not concerned with having tons of friends. A few good friends is all I need. I know it's hard to get to know someone by just a few photos and a couple of paragraphs, Thanks for reading my profile..
My Ideal Partner
I'm a simple woman who is single never married and no kids looking for someone serious that's not about games or drama. I'm not here looking for a one night stand nor am I looking to get married tomorrow but it would be nice to meet someone I can connect with and at least go from there.I am a very sensual, sexual and passionate woman. I love life and see the glass half full. I am always mesmerized by the ocean and want the person I am with to feel a connection also. I love to be fun and spontaneous and enjoy each day finding something joyful to smile about I really hope we can talk and if anything at least make a new friend.
Username quinny77
IP Address 5.254.97.109
Reported Country: Australia
Actual Country: ROMANIA*
*It is possible for scammers to fake IP addresses and country.
Remember, this is a FAKE PROFILE set up by a scammer on my dating site. DO NOT ATTEMPT CONTACT. Click here to learn more about the Scammerz.org project.
---
About this entry
You're currently reading "sexy,loving and laid back," an entry on Scammerz.org
Published:

02.14.15 / 8am
Category: