I want to melt in your mouth not in your hand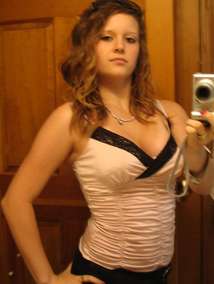 I am a creature who loves to explore and try even the craziest known ideas. I always love to see people smile no matter how awful their lives have been. After all, we all have burdens but its the way we handle them that counts!. I am always open to new experiences, to happy thoughts, to adventures. I am a kid in movies coz i find it more interesting and exciting. Would keep you slightly detached from this chaotic world and would bring you up close to magic,fantasy and unique existence instead. I fear to lose my senses coz they are my life. I'm friendly, outgoing, and i'm interested in meeting new people. Other characteristics i admire in others are: open mindedness, respect for varied cultures/beliefs/outlooks, sense of adventure, healthy lifestyle.my yim nicolebrown316 addme
My Ideal Partner
I feel there is so much communication to be made by the way someone looks at you or how they say it.communication is the key.and I want my match to feel that way too.they should have the same interest as I do,but their own as well.life is about learning and being able to share yourself,and what u have learned along the way.if you can keep interested that way,then I am yours promiz…
Fantasy
i want role playing
Movies
I love comedies, action, suspense, sci-fi…but I'm usually watching all kinds of movies.
Music
I'm pretty much give everything a chance at least one time, I am more of a rock type person but if u have something else that you think I might like, let me know.
T.V.
watch everything that comes up
Books
i don't read alot….but I like John grisham i have read his book the firm several times and i have seen the movie….i like steven king's the stand i have read that book a couple of times and i have the dvd…I like books that keep my attention and keep me on the edge or keep me in the moment and can hold my attention
Food
mexican,italian
Username nicolebrown
IP Address 192.168.1.163
Reported Country: Australia
Actual Country: RESERVED*
*It is possible for scammers to fake IP addresses and country.
Remember, this is a FAKE PROFILE set up by a scammer on my dating site. DO NOT ATTEMPT CONTACT. Click here to learn more about the Scammerz.org project.
---
About this entry
You're currently reading "I want to melt in your mouth not in your hand," an entry on Scammerz.org
Published:

06.11.10 / 6am
Category: