hit me up and see where it goes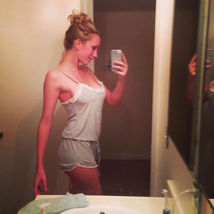 I can be cheerful and sparkling, and I can be serious and earnest. It all depends on the situation. But I am always loyal and reliable.I am a purposeful person. My word is adamant, I always stick to my words and promises, and my friends can count on me. I am kind and cordial. I am a tender and romantic soul, sweet and soft. I'm as well a very down to earth person who loves to laugh and have a good time. I'm the type of person who always has a smile on the face and I enjoy spending time with other people I am a very diverse girl and I always feel there is not enough free time to do everything that I want!I am also interested in singing.I like to listen to music and I like different styles of it.
My Ideal Partner
I like Simple guy that can handle a relationship, I like someone who can take care of me, thinking about me always, of course a person who's sweet like me.
I like the feeling of being taken cared by a special someone like you.
If your the one I've been looking for, I guess how lucky am I now.
Username b_ross
IP Address 172.111.155.14
Reported Country: Australia
Actual Country: PHILIPPINES*
*It is possible for scammers to fake IP addresses and country.
Remember, this is a FAKE PROFILE set up by a scammer on my dating site. DO NOT ATTEMPT CONTACT. Click here to learn more about the Scammerz.org project.
---
About this entry
You're currently reading "hit me up and see where it goes," an entry on Scammerz.org
Published:

01.19.16 / 12pm
Category: