Im a DOMME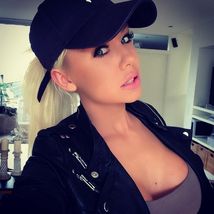 I am a Mistress who is not after the looks and brains, for I myself wants a slave who will adore Me,
do things the way i want them , make Me a Queen serve Me and pamper Me..I love slaves who always show how important I am!
I am a strict Mistress but not a total sadist, I enjoyed being adored by My slave and I am looking for a slave who is totally devoted and totally obedient a slave who can meet My expectations.
My Ideal Partner
first and foremost, i want a slave who's willing,devoted,loyal and very obedient that can serve me unconditionally.
Username AvaMTlicious
IP Address 112.210.238.243
Reported Country: Australia
Actual Country: PHILIPPINES*
*It is possible for scammers to fake IP addresses and country.
Remember, this is a FAKE PROFILE set up by a scammer on my dating site. DO NOT ATTEMPT CONTACT. Click here to learn more about the Scammerz.org project.
---
About this entry
You're currently reading "Im a DOMME," an entry on Scammerz.org
Published:

07.28.15 / 9pm
Category: