Stop !! here.. you'll never regret!!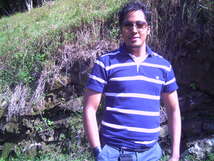 Am a very cute guy,intelligent ,turn crazy when am with my friends,always aim to add new things in life.. i worked in Mauritius Island..,like pretty good aussies.. !!!
Wanna to know more.. ,date me!! lool
My Ideal Partner
intelligent , glamor,cute,generous,adventurous ,loyal,good listener, non-smoker,self-reliant, open minded,cute , smiley
Username handsomert
IP Address 41.212.132.192
Reported Country: Australia
Actual Country: MAURITIUS*
*It is possible for scammers to fake IP addresses and country.
Remember, this is a FAKE PROFILE set up by a scammer on my dating site. DO NOT ATTEMPT CONTACT. Click here to learn more about the Scammerz.org project.
---
About this entry
You're currently reading "Stop !! here.. you'll never regret!!," an entry on Scammerz.org
Published:

06.22.08 / 10pm
Category: