come fill me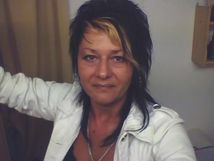 Very sincere, outgoing, communicative, willing to risk, willing to share, lover of life, lover of fun, lover of men (well that didn't come out quite right . . . maybe I should say enjoys the company of men, yes, that sounds better), so enjoys the company of men . . . but what I value most about myself is that my heart is still open. I'm not perfect but I like who I am. I am affectionate, honest, and optimistic. I value a strong emotional relationship, but I also value my time to myself,my time to spend with friends. I'm proud to be able to say I've lived my life with honesty and integrity.
My Ideal Partner
I'm looking for my best friend – a man with integrity, who loves to laugh and can make others laugh, and whom I can trust and be myself with. A man with more emotional depth than most. Someone who can work hard, play hard, but strives to stay balanced !!! (as long he loves to exercise as much as I do!) He needs to have confidence, that real inner confidence that comes from knowing yourself well and liking who you are. I admire a man who is strong, a man who isn't afraid to speak the truth nor afraid of showing his true feelings, a man whose heart is open and willing to trust . The ideal relationship is built on friendship, respect for each other, and is full of enthusiasm, passion, and gratitude for life.
Movies
Actions
Music
Blues ,hippop
T.V.
soaps
Books
Motivational book ,Think Big
Food
Anything
Sports
Tennis
Activities
Remember, this is a FAKE PROFILE set up by a scammer on my dating site. DO NOT ATTEMPT CONTACT. Click here to learn more about the Scammerz.org project.
---
About this entry
You're currently reading "come fill me," an entry on Scammerz.org
Published:

06.27.11 / 8pm
Category: