Even if you in my life will be only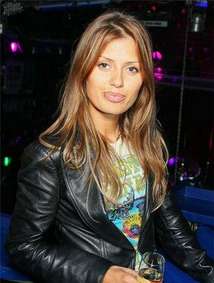 It is difficult to speak about myself and to estimate. But I will try. I am the holding and independent woman. I am the incorrigible optimist in life. I am kind, sympathetic, cheerful, purposeful and very sociable person. I love life in all her appears and therefore I practically always have very good mood and I never miss. I am very sociable person and I adore to get acquainted with the new people and to find out something new for myself. All my friends speak to me that I am very beautiful and sometimes, for fun, call me princess. But I think I am quite usual person and simply attractive woman. I hate to be lazy and fast food because I am the supporter of healthy food and a healthy way of life. I adore cooking and I hope that my future electer will appreciate it! Most of all I appreciate honesty in people, sincerity and an openness. I like people who do not hesitate, don't afraid to be like they are in life! I don't like disgust and contempt liars, traitors, rude fellows, dirty and simply who bad-mannered people. If you have one of these qualities, my profile is not for you and you can not spend my and your time for nothing! And if you like what you have read about me and you feel that we can have mutual open dialogue, please write to me immediately!!!!
My Ideal Partner
Love!! It is the finest feeling given to the person! The love is elements! Love is the sea! And I feel a lonely small boat in this huge storming sea of passions and feelings. I have been swimming for a long time in this sea facing on underwater reeves and facing with pirates. I accepted many times on the board people who wanted to trust and love, but every time I was mistaken and disappointed in these people! That's enough, I don't want it any more! And I am tired from this lonely navigation! I am tired from loneliness! Where are you, my captain, my prince, my beloved?? Why can't we meet so for a long time?? It is not important what age you are because I think that every can love in every age. But I want you to be more senior than me! It is not important as far as you are handsome externally because for me the beauty of your soul and your thoughts are important! It is not important how much money you have, because for me the main thing is that you could provide comfortable existence of the family!!! For me the most important is to have harmony, mutual understanding and honesty in relations between me and my captain! And to such a man I will give all my love and heart without any rest!!! If you have recognized yourself in this description, Welcome aboard my captain!!!!!
Fantasy
tell you later
Movies
tell you later
Music
tell you later
T.V.
tell you later
Books
tell you later
Food
italian
Username fidanzata
IP Address 89.97.0.111
Reported Country: Australia
Actual Country: ITALY*
*It is possible for scammers to fake IP addresses and country.
Remember, this is a FAKE PROFILE set up by a scammer on my dating site. DO NOT ATTEMPT CONTACT. Click here to learn more about the Scammerz.org project.
---
About this entry
You're currently reading "Even if you in my life will be only," an entry on Scammerz.org
Published:

09.25.08 / 10am
Category: