A lovely guy to be with..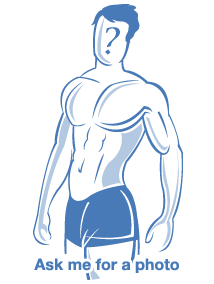 I have learned to be caring, loving, honest, faithful and very romantic. I do not smoke and I don't drink. I hate lies and deceit. People say I am sexy and romantic but I don`t know. Would you care to find out? I am fun loving man looking for someone loving, caring and honest. I will treat my partner like something very precious. I will like to surprise her with flowers. I will give her good gifts like a new fine clothes, shoes, wristwatch and many more. You could say all the things a woman desires. It is nice to eat out at good restaurants, but I like the occasional candle light dinner at home. I am a professional photographer and I work with the US military,I have been doing that for years now and I love what i do. If you like holding hands and walking barefoot on the sand in the moonlight, then you are that woman of my dreams I have been looking for. My main hobbies are reading,traveling, listening to music, watching tennis, soccer, action and adventure movies. Also gardening and sunbathing. Would you believe I get satisfaction out of fixing things. I am not a lonely person. I just want to share what I have with a loving partner.
My Ideal Partner
I seek for a woman with similar Interests as myself, a person who is genuine, extremely caring and trustworthy. One who likes to travel and to enjoy the good life. I like a woman who takes a pride in her appearance as well as her home and is happy to meet and entertain people.. It would be nice if she is of the same faith as me. But that is not always possible. Please ask me any questions. I think I am a good lover and can make you very happy in more ways than others. If you have younger children or even want children then please be assured, I am happy to include them in the partnership. It would be good for me, as I like children
Username chukky
IP Address 41.190.90.70
Reported Country: Australia
Actual Country: GHANA*
*It is possible for scammers to fake IP addresses and country.
Remember, this is a FAKE PROFILE set up by a scammer on my dating site. DO NOT ATTEMPT CONTACT. Click here to learn more about the Scammerz.org project.
---
About this entry
You're currently reading "A lovely guy to be with..," an entry on Scammerz.org
Published:

05.26.14 / 2am
Category: