Romantic and genuine man looking for a sincere woman!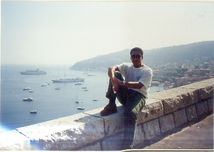 I am ready for close relationship.I am really looking for a truthful,loving,caring ,honest and romantic woman to share some great moments together in our life.I love quite nights together with my woman,cooking together,listening to music and enjoying lots of great activities together.I am not here for playing games or wasting my time. I am so interested to meet someone special.A woman,who enjoys being with a loving,sincere,kind and heartfelt man, like me.Thanks ladies for looking me up and love to hear from you soon.
My Ideal Partner
I am looking for a romantic woman who wants a man who is afffectionate, attentive, and full of life and energy. A woman who will just sit and talk about our days and our plans or just anything that pops into our heads. I want to be needed and loved and be important in her life. Don't get me wrong I can take care of myself and all of my ordinary everyday things…i'm talking about the thing i don't have now…a partner who will stand behind me in good times and bad…who gives unconditional love.
I am looking for a woman who is kind and honest with a good sense of humor and communication skills. Someone who can talk about current events or a funny joke while we are cooking a meal together or enjoying a nice glass of red wine. A woman who I have great chemistry with,enjoying being close to,loving ,caring, can laugh a lot with, and are interested in each others lives. My best friend and gives me that exciting feeling that I can't seem to get enough of. I know this great woman is out there somewhere

Movies
Romantic,science fiction,historical,drama
Music
Classical,Jazz,
Food
Italian
Sports
Swimming,Tennis,Football,Golf
Activities
Remember, this is a FAKE PROFILE set up by a scammer on my dating site. DO NOT ATTEMPT CONTACT. Click here to learn more about the Scammerz.org project.
---
About this entry
You're currently reading "Romantic and genuine man looking for a sincere woman!," an entry on Scammerz.org
Published:

08.15.11 / 1am
Category: