I Love The Nature And Go Out With Friends!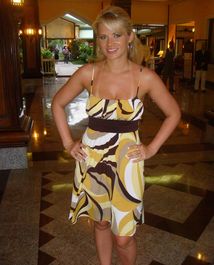 Open the gates that lead to the ultimate pleasure. My name is Nathy and I'm a girl fiery and hot, who came to meet all your requests for darker as they are. I can literally renew your spirit and shake your soul to the point that you will wish not to go back. My company is reserved only for people who really know what they want and are willing do anything to get it.
My Ideal Partner
Im looking for a man that know what he wants and is willlin to do anything to get it
Username LittleBird16
IP Address 186.120.235.100
Reported Country: Australia
Actual Country: DOMINICAN REPUBLIC*
*It is possible for scammers to fake IP addresses and country.
Remember, this is a FAKE PROFILE set up by a scammer on my dating site. DO NOT ATTEMPT CONTACT. Click here to learn more about the Scammerz.org project.
---
About this entry
You're currently reading "I Love The Nature And Go Out With Friends!," an entry on Scammerz.org
Published:

01.10.13 / 1am
Category: